The Physical Therapy Clinic My Doctor Wants Me To Go To For Rehab Has Bikes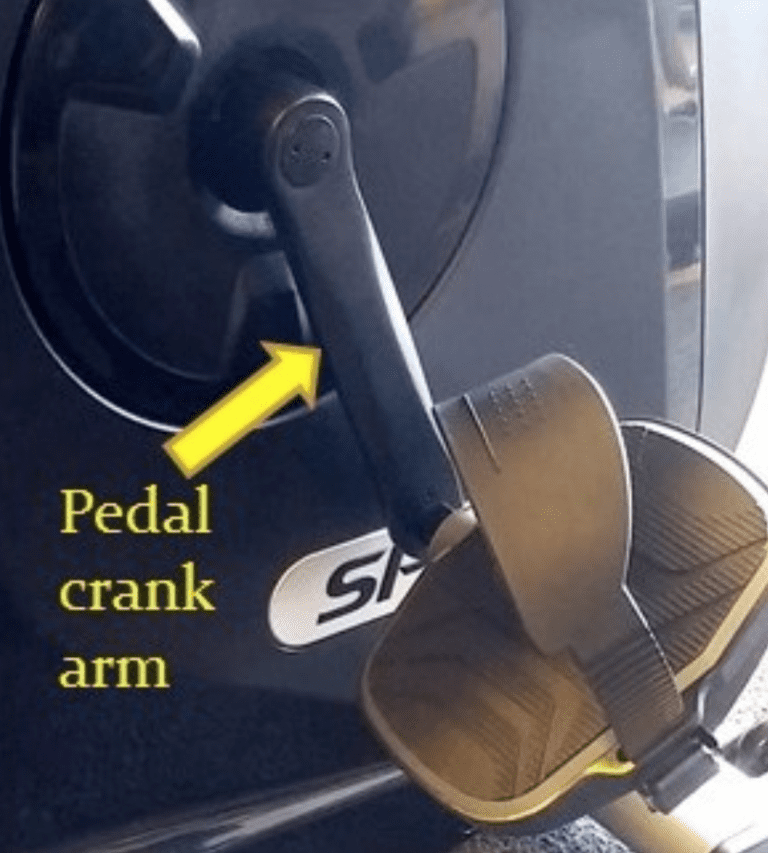 We met a man walking with crutches across a driveway to the parking lot as we pulled an OrthoBike OB1 on its cart to the same place after a demo. He jokingly asked if he could have one at home! We talked and found out that he had scheduled a knee replacement within a month. We explained briefly the OrthoBike's adjustable pedal cranks and the extraordinary benefits of rehab after a total knee replacement. He told us he had already seen bikes at the outpatient clinic where he would be getting rehabilitation after surgery. He didn't think there was an OrthoBike on the floor. We suggested he ask about that deficiency but he seemed to not quite grasp why he should. We decided to write this post to help explain the matter.
Stationary fitness bikes in the outpatient clinics
All therapists and doctors, both clinicians and researchers, agree that cycling is the best dynamic exercise for the knee. All outpatient orthopedic therapy clinics invest in stationary exercise bikes.
The bikes in the clinics are fitness products used in gyms. They have 7-inch (really long) pedal crank arms; and the rider has to lean forward a little (or a lot) to grasp the fixed handlebar (like a road bike).
You know you can't ride a fitness bike right after surgery or if your knee is hurting. The therapists work on your knee to increase its flexion to prepare you to ride the bike. The minimum flexion of your knee to comfortably pedal a standard 7-inch pedal crank all the way around is about 110°. Depending on your fitness and the condition of your knee, it will take 2-4 weeks of rehabilitation after surgery to achieve it. But by the time your knee bends to 110° you are almost ready to be discharged, anyway. Advanced patients warm up and work out on the fitness bikes.
Rocking back-and-forth: ouch!
Your PTs might seat you on the recumbent fitness bike in the early days and ask you to rotate the pedals forward and backward as far as you can ("rocking"). We have heard that you stop going forward when it hurts, and stop coming back when it hurts, hurt–hurt, hurt–hurt…a hard stop of pain over and over and over, until you finish this wonderful exercise or refuse to continue. If your foot ever slips off the pedal, you will join that select group whose screams are heard all over—you won't be the first. Is this really what you want?
Finally, time to ride—are you ready?
When your knee's flexion has progressed far enough, the PTs put you back on the big bike. You haven't done any cycling for weeks, maybe years. Suddenly, you and your knee are confronting what both have been dreading since you started rehab.
Of course, the PT won't put you there unless he/she is confident you are ready. But if it hurts too much to complete that first pedal rotation, you could freeze up and refuse to do any more. The PT might judge that you must get around to progress to the next step and force the rotation. OK, so that sudden flame of pain is good for you but you might never forget the pain somebody else caused you. We know one woman who refused to return to get her second knee done for three years (of popping pain pills and limiting her activities) because of exactly that experience.
There's now a better way, pedaling complete rotations from the beginning, in your pain-free-zone as your flexion increases, and work up to the big bike.
OrthoBike, the therapy bike
The OrthoBike OB1 is new and nothing like the fitness bikes. It was designed for therapy from the ground up and was never in a gym.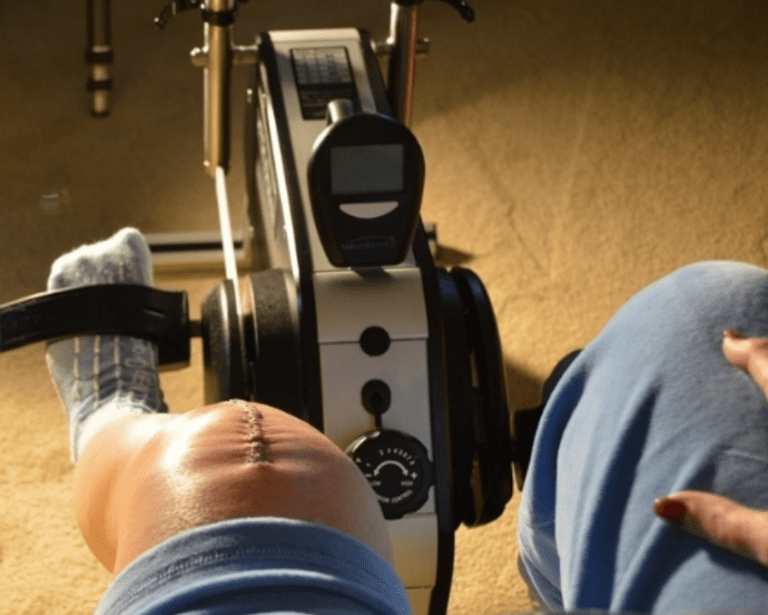 You can start pedaling the OrthoBike within 24 hours of surgery, possibly uncomfortably but pain-free. That's right, starting as low as 60° of knee flexion, and completing pedal rotations right out of surgery—none of this painful rocking back-and-forth business. You'll increase the bend or flexion of your knee a little at a time as you ride the OrthoBike for the next several weeks, under your control. When it is time to get on the big bike, you and your knee are both prepared and excited for that wonderful milestone.
The OrthoBike is a better way for rehabbing knees. Every patient who uses it loves the OrthoBike. Nobody loves the fitness bikes; they are just bikes, which is all the clinic can offer you. Talk to your doctor and PT about when you get to start riding the bikes in the outpatient clinic.
For those of you that have want to learn more about the Orthobike, head over to the website to check out the for patients section. This is a great resource to use or you can certainly contact either our Lehigh Valley or Upper Macungie offices at 610-841-3555 to set up a free screen or evaluation with the OrthoBike.
For those of you who are looking for a little more info on preventing knee injuries see our Knee Pain Course. Through the course and following the steps above you will be well on your way to keeping your knees healthy and preventing injury!
That's all for now! Feel free to post any questions in the comments section below and if you sign up for a course you will be able to get to stay on top of all things Robbins Rehab!