Physical Therapy in Upper Macungie, PA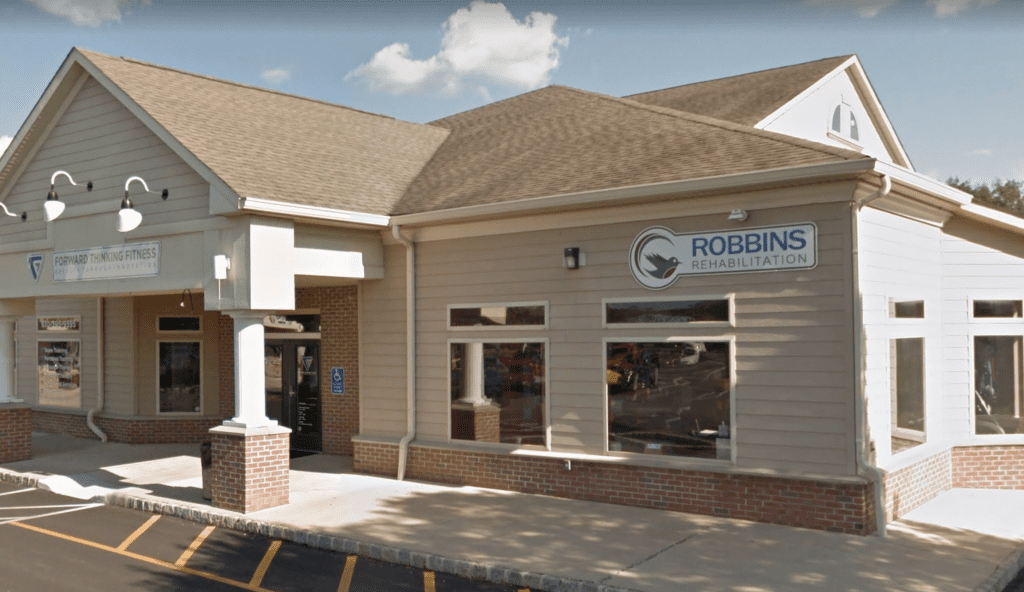 Request An Appointment
Please fill out this form and
we will contact you about scheduling. Nicholas Zenga

By far the best PT clinic I have experienced. Very friendly and experienced staff that are dedicated to helping you in all aspects. Large facility with plenty of equipment and space to get the best rehabilitation possible. Would highly recommend to anyone in need of physical therapy! Rasheedah Agho-Brooks

I injured my left shoulder at work and noticed even when I went back i could not work more than an hour. Since I have been doing therapy at Robbins not only can I do a full sort but my back has been getting better i sit taller and I have a little more confidence. I can't boast enough about the caring, loving, attentive and funny staff this is my family as well as care takers

When we talk about physical therapy in Lehigh Valley, PA, you may get the idea that all physical therapy is the same for every patient. Maybe you get images in your head of physical therapists helping patients to stretch their arms or cycle their legs in the air.
The truth is that physical therapy is not exactly a one-size-fits-all practice. Just as every patient is different, so, too, is every type of physical therapy exercise different, and meant for different purposes.
Here at Robbins Rehabilitation West, we are going to give you a better idea of what some of the different types of physical therapy are and how each can benefit patients.
Types of Physical Therapy
Physical therapy can address problems in people of all ages and who have a range of medical problems. Let's learn more.
Geriatric Physical Therapy
Geriatric physical therapy is tailored toward older people who have developed trouble performing what would normally be everyday actions for younger people, such as standing or walking. Older people may have developed medical conditions that make things worse, such as arthritis or osteoporosis. In such cases, the goal of physical therapy would be to strengthen the patient's muscles and joints as much as possible to increase mobility, all while taking the patient's physical inabilities into account. This can be accomplished with stretches and other repetitive movements, as well as through using devices such as walkers.
Orthopedic Physical Therapy
Meanwhile, orthopedic physical therapy services in Lehigh Valley work with injuries and reduced mobility in the musculoskeletal system. That includes the bones, ligaments, tendons, and joints. People who are highly active physically are likely to experience injuries in these areas, perhaps a broken bone or torn ligament. Those kinds of injuries are painful, and it may take patients quite a while to come back from them. Physical therapy, however, can ensure the patient heals properly and at a good rate. Exercises might include endurance and strength training, joint movement, stretching, and electrical muscle stimulation.
Cardiopulmonary Physical Therapy
Cardiopulmonary physical therapy, the last item on our list, focuses on strengthening the endurance of patients whose mobility and strength have decreased due to cardiovascular or pulmonary illnesses. You may not have thought of this before, but conditions of those areas can lay someone low in regard to strength and mobility. Heart attacks and chronic obstructive pulmonary disease (COPD) can be particularly debilitating for people. Physical therapy for cardiovascular issues helps by getting the patient to engage in activities such as swimming, running, and walking, all while the heart rate is monitored. Pulmonary physical therapy might encourage the patient to practice breathing, exercising, and relaxing the body.
See a Lehigh Valley Physical Therapist
At Robbins Rehabilitation West, we specialize in all the types of physical therapy that can help you recover from whatever medical condition has reduced your strength and mobility. We enjoy playing a role in our patients' successes, whether those successes constitute being able to walk longer than normal or regaining strength in an injured ligament. A Robbins physical therapist in Lehigh Valley, PA, will always be there to answer the call when you need us.
Contact us today to schedule an appointment! We look forward to seeing you.
6750 Iroquois Trail 12A Lehigh Valley PA 18104
Phone: 610-841-3555
Fax: (484)-221-9981